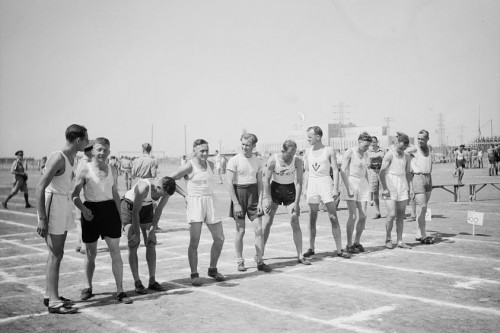 New to minimalism? Have you heard of theminimalists.com? Welcome aboard! There's a lot of info they share, and you certainly don't have to read it all at once, but here's the order they suggest for beginners. Start below, find topics that add value to your life, and take your time. There's nothing wrong with moving slowly.
Start Here: Read, Listen, Watch, Connect
Free Essays. Subscribe to this website via email to receive free essays about minimalism from Joshua and Ryan. This way you'll always receive new essays whenever they publish one (usually a couple per week). They never send spam (because spam's yucky!). They want to add value to your life, so subscribe only if you find value here. Unsubscribe anytime.
Listen to Less. Each week, they discuss living a meaningful life with less on The Minimalists Podcast, which is often the #1 Health podcast on iTunes and has climbed the charts to the top 30 of all podcasts.
Documentary. Their film, Minimalism: A Documentary About the Important Things, opened as the #1 indie doc of 2016, showing in more than 400 theaters worldwide. It's now available online and on DVD.
Meet The Minimalists on Tour. They've spoken about minimalism in more than 150 cities in eight countries. Check their tour page to see where they'll be next.
Connect via Social Media. Follow them on your preferred social network: Facebook, Twitter, Instagram, and YouTube. They share a lot of insightful and funny things they don't say here.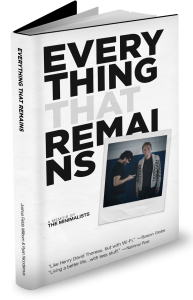 Newest Book. What if everything you ever wanted isn't what you actually want? Everything That Remains is the touching, surprising story of what happened when Joshua Fields Millburn decided to let go of everything and begin living more deliberately ("Like Thoreau, but with Wi-Fi" —Boston Globe). Heartrending, uplifting, and deeply personal, this engrossing book is peppered with insightful (and often hilarious) interruptions by Ryan Nicodemus, Joshua's best friend of 20 years.
Paperback: Amazon · IndieBound
Ebook: Kindle · iBooks · Nook · Kobo · Google Play · PDF

Audiobook: Audible · iTunes · Amazon
And then…
And then let them answer your questions by way of our essays…
Excess Stuff
Having trouble getting rid of stuff? Read these essays: The Short Guide to Getting Rid of Your Crap, 10/10 Material Possessions Theory, Getting Rid of Just-In-Case Items, When Everything Is Your Favorite Thing, What Would Happen If You Just Let Go?, and The Consumption Continuum. And listen to this podcast: Stuff.
Clutter
Tired of clutter? Read: Packing Party: Unpack a Simpler Life, Decluttering Doesn't Work Like That, Organizing Is Often Well-Planned Hoarding, Collecting Is Dangerous, What Things Can You Get Rid Of?, and 30-Day Minimalism Game. And listen to this podcast: Declutter.
Sentimental Items
Having trouble getting rid of sentimental items? Read these essays: Letting Go of Sentimental Items, Photo-Scanning Party, Dealing with the Death of a Loved One, The High Price of Pursuing My Dreams, and I Don't Love You Anymore. And listen to this podcast: Sentimental.
Relationships
What about relationships? Read: Letting Go of Shitty Relationships, It's Complicated, A Minimalist's Thoughts on Meaningful Relationships, and The Things We Are Prepared to Walk Away From. And listen to this podcast: Relationships.
Gifts
Tired of buying and receiving so many stupid gifts? Read these essays: Getting Rid of Gifts, The Blackest of Fridays, and The Commodification of Love, Five Steps Toward a More Meaningful Holiday Season, and 40 Reasons to Avoid Shopping on Black Friday. And listen to this podcast: Giftgiving.
Counting Possessions
Is minimalism just about counting your stuff? (Hint: nope.) Read this essay: I Counted All My Stuff then I Threw Away the List Because I Didn't Want It to Count as One Item and then take a Tour of Joshua's Minimalist Apartment. Also: Less, Less, Less, Less, Less, Less, and Love People, Use Things. And listen to this podcast: Consumerism.
Explaining Minimalism
Having trouble explaining minimalism to your friends and family? Read these essays: Minimalism for Families with Childrenand Minimalist Family: Start With Yourself, followed by Minimalist Family: 12 Useful Links, Minimalism Is Not a Radical Lifestyle, I Was Not a Minimalist, Until I Was, Life Is an Acquired Taste, Gospel of Minimalism, and Take It Simple. And listen to these podcasts: Who Are The Minimalists? and Children.
Career
Sick and tired of your soul-crushing corporate job? Read these three essays: Why I Quit My 6-Figure Corporate Job, Being Laid Off From My 6-Figure Job Was the Best Thing That Ever Happened to Me, UnTeachers, The UnAmerican Dream, Life's Most Dangerous Question: What Do You Do?, and Quitting Is Easy. And listen to this podcast: Career.
Money
Wondering how minimalism can help you with your finances and help solve your money problems? Read these essays: Financial Freedom, Debt-Free, A Minimalist's Thoughts on Money, What it Feels Like to No Longer Worry About Money, Money Doesn't Buy Happiness, Neither Does Poverty, and Money Does Not Buy Better Habits. And listen to this podcast: Money.
Productivity
Want to stop wasting your time? Thinking about getting rid of your TV or your phone maybe even getting rid of the internet at home?That's great! Read these essays: Most Emergencies Aren't, Why I Don't Own a TV, Killing the Internet at Home Is the Most Productive Thing I've Ever Done, Why I'm Getting Rid of My Phone, Reprogramming The Twitch, and How to Check Email Like a Minimalist. And listen to this podcast: Priorities.
Clothes
What kind of clothes does a minimalist wear? Read these essays: Favorite Clothes of a Minimalist, What If You Accidentally Spilled Bleach on Half Your Wardrobe?, Fool Price, Logos, Less Clothes, More Routines, and A Rolex Won't Give You More Time.
Workspace
Want to clean up your office, desk, or workspace? Read these two essays: My Minimalist Workspace and My Minimalist Desktop. Also: Minimalist Screens: Free Wallpaper for Your Smartphone and Desktop.
Goals
Ever thought about living with no goals and just enjoying your life? Read these essays: Living with No Goals, Moving Beyond Goals, When Goals Are Important and When They Are Not, What is Your Outcome?, and Accomplishments Without Goals.
Decisions
Having trouble making a hard decision? Read: How to Make a Damn Decision and Right Path, Wrong Path, Left Path, No Path. And listen to this podcast: Education.
Mindfulness
Wish you could live in the moment more often? Read these essays: Right Here, Right Now, Fighting the Voice in Your Head, Waking Up, Be on The Mountain, and Clear Your Damn Plate. And listen to this podcast: Mentalclutter.
Time
Wish you had more time for yourself? Read: Alone Time, 5 Ways to Create Solitude, Someday, and Taking Back the Morning.
Focus
Feel too busy all the time? Read: Not Busy, Focused and The Details. And listen to this podcast: Focus.
Health
Wish you were in better shape? Wish you exercised more? Wish your diet was better? Wish you were just healthier? Read these essays: A Minimalist's Thoughts on Diet, Minimalism is Healthy: How I Lost 70 Pounds, 18-Minute Daily Minimalist Exercises, and 6-Minute On-the-Road Minimalist Workout (with Videos). Also: The Costs and Benefits of Awareness. And listen to this podcast: Health
Past
Having trouble letting go of the past? Read this essay: Your Past Does Not Equal Your Future, Letting Go of Control, and Worthy. And listen to this podcast: Away.
Perfection
Are you a perfectionist? Read these essays: Nightmares of a Perfectionist and The Pressure We Put on Ourselves. And listen to this podcast: Passion.
Contribution
Want to know the meaning of life? Read these essays: Ask Not What You Can Get, Ask What You Can Give, Giving Is Living, and Adding Value. Also: Imagine Everything.
Freedom
Want to know what freedom really means? Read our three-part essay series: Conscious Freedom Essay Series. And listen to this podcast: Debt.
Life Lessons
Want a bunch of life lessons from 30 years of living (complete with a ton of great links)? Read this essay: 30 Life Lessons From 30 Yearsby Joshua, followed by Ryan's 30 More Life Lessons From 30 Years. Also worth reading: A Minimalist, a Japanese Cowboy, and an Arrogant American Walk into a Museum. And listen to this podcast: Blame.
Explaining Yourself
Tired of always explaining yourself? Read these essays: You Don't Have to Explain Yourself, Fake Outrage: Dealing with Criticism, and Preaching to the Congregation. And listen to this podcast: Criticism.
Results
Feel like you've tried everything but can't get results? Read this essay: Stop Trying, followed by The Discomfort Zone. And listen to this podcast: Next.
Barriers
Want to know who's holding you back? Read this short essay: Who Is Preventing You from Being Completely and Totally Free? And listen to this podcast: Education.
Links
Want to see 10 links that changed our lives? Read this essay: 10 Life-Changing Links. And listen to this podcast: Documentaries.
Blogging
Interested in starting your own website or blog? Read: How to Start a Successful Blog Today. And listen to this podcast: Writing.
More
Once you're done with all that, check out their TV, radio, and print interviews, as well as their archives page, which contains all of the essays on their site as well as their guest essays on other sites throughout the web.
If you're interested, they offer an online writing class and private mentoring.
Finally, you can check out some of their favorite websites about minimalism.
Blog by The Minimalists