Let's face it: It's no fun giving (or receiving) a half-hearted holiday gift. While the expectations around gift-giving this time of year can make shopping feel like a chore, selecting something meaningful for the people who matter to you can be a powerful act of love. In our view, what makes a gift special isn't its monetary value; it's the thought that counts! We know being thoughtful in the wake of so. many. things. can be overwhelming, so our editors have curated six gift guides with our namesake values in mind: mind, body, and green. See all of our gift guides here.
Our homemade edible gift guide is all about sharing a little of the goodness we like to enjoy in our everyday lives with others. By sharing healthier handmade treats, we can show the people we care about how better-for-you treats can be tasty, too. Each one of these gifts eschews refined sugars and overly processed flours in favor of whole-foods-based treats that taste celebration-worthy amazing.
Gingerbread Granola
Photo credit: Stocksy
Get the taste of the season with a vegan granola brimming with spice and crunch. I don't stir this granola at all after it goes in the oven to create big chunks that are ideal for snacking.
You can make granola part of a bigger host gift by adding it to a breakfast basket, along with fancy coffee, organic yogurt, and the best in-season fruit you can find.
Makes about five giftable portions
Ingredients
3 cups old-fashioned rolled oats
2 cups mixed nuts and seeds (we used pecans, walnuts, and pepitas)
½ cup almond meal
2 tablespoons chia seeds
2 teaspoons ground cinnamon
1 teaspoon ground ginger
¼ teaspoon cardamom
⅛ teaspoon pinch cloves
½ teaspoon salt
½ cup coconut oil, melted
⅓ cup maple syrup or honey
2 tablespoons unsulfered molasses
Preparation
1. Heat oven to 325°F and line a large baking tray with parchment paper. In a large bowl, mix oats, nuts, seeds, cinnamon, ginger, cardamom, cloves, and salt until well-combined.
2. In a pourable measuring cup or bowl, combine melted coconut oil with maple and molasses.
3. Pour wet ingredients into dry and mix well with a rubber spatula until the oats are evenly coated. Spread out on the lined baking tray in an even layer.
4. Bake for 40 to 45 minutes, rotating the tray 180 degrees at the 20-minute mark. Allow to cool fully on the tray. Break apart into pieces by hand and transfer to jars.
Dukkah
Photo credit: Stocksy
This savory spice blend with Egyptian origins lends crunchy and exotic flavor to everything from avocado toast to soups. A great gift for that foodie friend who's always looking to try something new. The best part: It takes 10 minutes (at the most) to make.
Check out this recipe for Cashew Hazelnut Dukkah.
Vegan + Paleo Fudge
Photo credit: Wholefully
Made with just a few simple ingredients, this indulgent treat is filled with healthy fats and antioxidants.
Wholefully's Dark Chocolate Coconut Oil Fudge gets it right.
Almond Butter Cups
Photo credit: Stocksy
A gourmet Reese's will win everyone over. We love Sprouted Kitchen's Dark Chocolate Almond Butter Cups.
Chai Hot Chocolate Mix
Photo credit: Stocksy
Move over, Starbucks gift card. Make your own chai-spice-packed hot cocoa mix (think a majorly upgraded Swiss Miss) and attach instructions for serving.
Makes 2 to 3 small jars
Ingredients
1 cup cocoa powder
3 teaspoons ground ginger
2 teaspoons ground cinnamon
1 teaspoon ground cardamom
½ teaspoon ground cloves
½ teaspoon ground nutmeg
½ teaspoon ground allspice
½ teaspoon sea salt
Preparation
Mix ingredients together in a bowl until everything is evenly distributed.
Serving Instructions: Blend 1 tablespoon with a cup of warmed milk (we love unsweetened vanilla almond milk or coconut milk for this). Add a teaspoon (or more, as needed) of maple or honey for sweetness.
Roasted Cocktail Nuts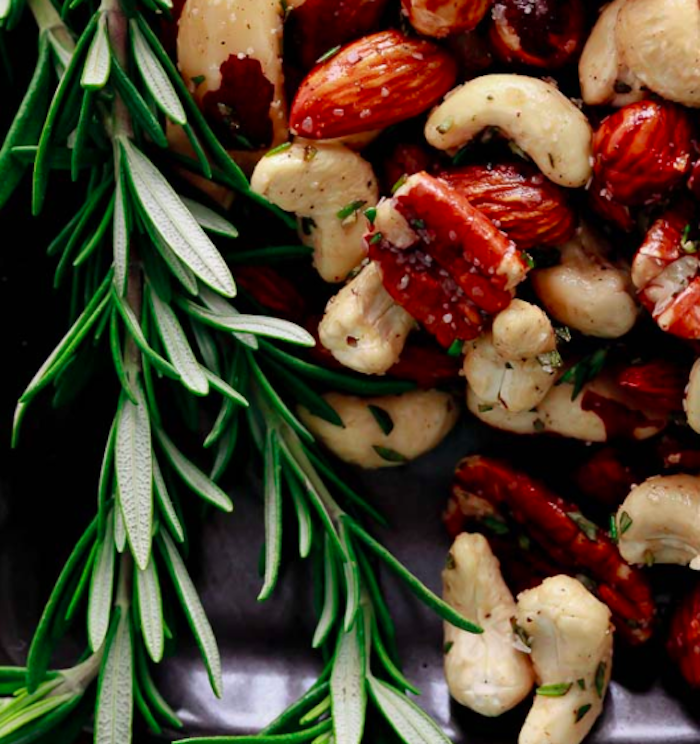 Photo credit: Gourmande in the Kitchen
On a savory note, we like something with spice and aromatics, and these Spicy Rosemary Roasted Nuts from Gourmande in the Kitchen definitely fit the bill.
Healthy Nutella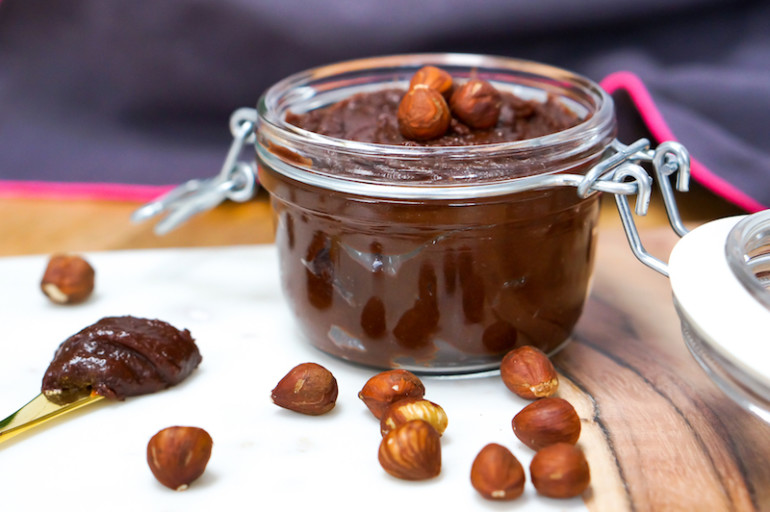 Photo credit: Liz Moody/Sprouted Routes
The beloved chocolate and hazelnut spread gets a healthy makeover. Sprouted Routes' version made with simple, good-for-you ingredients has our vote.
Energy Truffles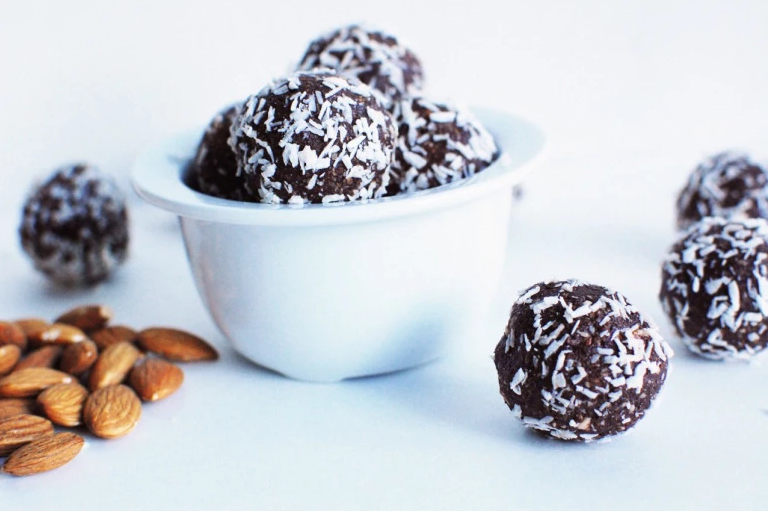 Photo credit: Abigail Hopkins
They look and taste like truffles, but they're packed with vitamin- and mineral-rich foods like dates, cacao, nuts, and more to leave you feeling energized rather than foggy from a sugar hangover.
Some of our favorite recipes:
Spiced Golden Milk
Photo credit: Stocksy
For your wellness-minded pals who know what's up. As with the Chai Hot Chocolate above, be sure to attach serving instructions for your mix.
Makes 1 giftable portion (scale up as needed)
Ingredients
3 tablespoons ground turmeric
1 tablespoon ground cinnamon
1 tablespoon ground cardamom
1 tablespoon ground ginger
Preparation
Place all ingredients together in a small jar, pop the lid on, and shake until combined.
Serving Instructions: Whisk 1 teaspoon into warmed almond or coconut milk until the texture is smooth. Stir in a pinch of freshly ground black pepper and a little maple syrup or honey.
Pumpkin Butter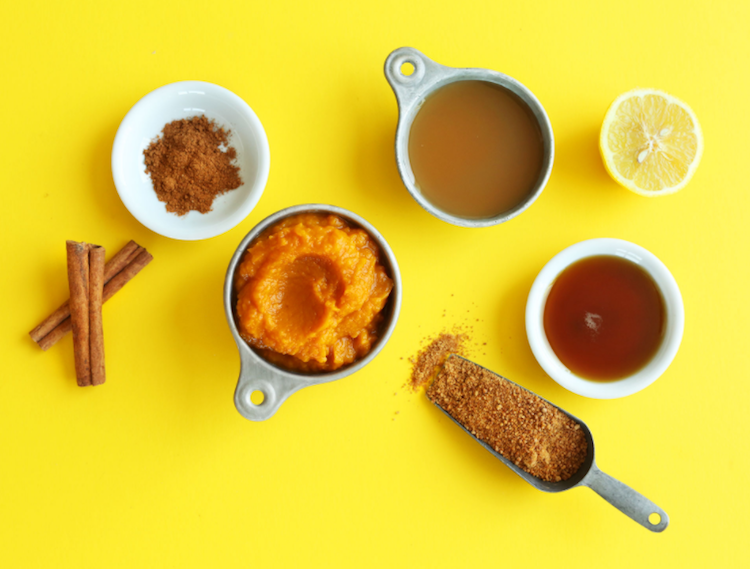 Photo credit: Minimalist Baker
Pumpkin butter is like the spreadable version of pumpkin pie—it's great stirred into oats, slathered on toast, or sandwiched between cookies.
Minimalist Baker's recipe for 20-Minute Pumpkin Butter uses coconut sugar and maple for sweetness and comes together in, you guessed it, 20 minutes.
How to package your gifts
A few ideas to make packaging cute, affordable, and responsible:
We love these 8-ounce glass Ball Mason Jars ($7.50 for 12)
These labels dissolve when you wash them, so the jars can easily be repurposed. ($4.49 for 60)
We're all about bakery boxes made without harsh chemicals or coatings. ($32.88 for 25)
Blog by Leah Vandervelt via MindBodyGreen.com