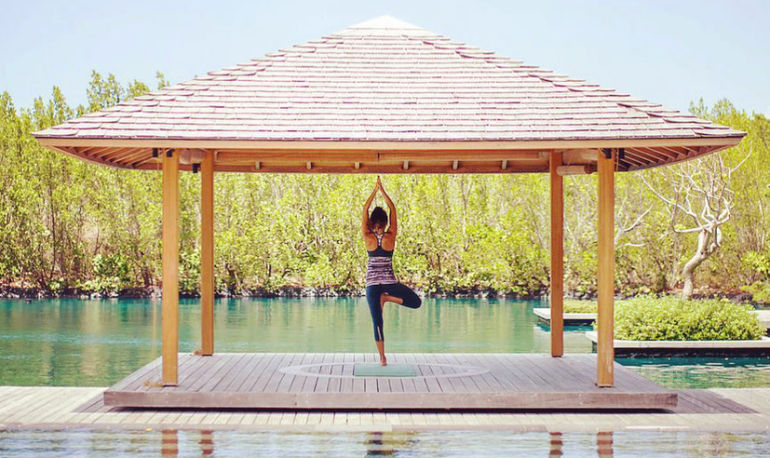 Photo: @amanyara_resort
Upon returning to my glass casita following a day of beachside workouts, acupressure facials, and fresh local cuisine, I took a moment of reprieve to soak it all in. I stood overlooking the ocean's rocky coastline set against a lush, green nature reserve, suddenly struck by the idea that this landscape—even more than the itinerary that preceded it—was the ultimate luxury.
My four-day trip to Amanyara in Turks and Caicos with my husband, Jason, and new baby daughter, Ellie, was a much-needed break from the hustle-and-bustle of the everyday. The resort's wellness programs were designed to help me move, relax, and recharge surrounded by water, wildlife, fresh air, and everything else I'd come to miss while in NYC. With 31 properties spread across 20 countries, Aman is the proud poster child of luxe vacationing grounded in a sustainable ethos.
During my brief stay, I trained with a boxing champion, meditated along white sandy beaches, and indulged in bespoke spa treatments. Each of these offerings was informed by the surrounding community. Skin serums were infused with local coconut oil and sea salt, float therapies took a cue from the swells of the Caribbean, and meals featured produce from an aquaponic vegetable garden just a stone's throw away. By allowing nature to take center stage, Amanyara turned the surrounding wildlife into the centerpiece of our vacation.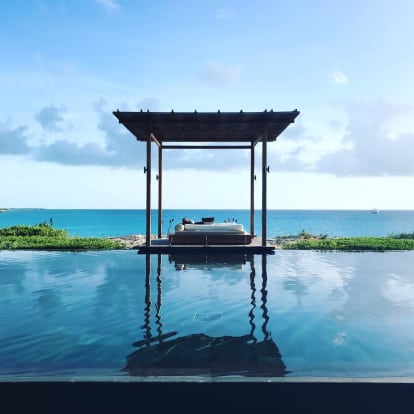 Photo: @jasonwachob
"Our environmental programs offer something for all ages and center around the discovery and conservation of the surrounding indigenous wildlife, from guided hikes and snorkeling expeditions to our Adopt-a-Coral program and the chance to participate in the Amanyara Sea Turtle Initiative," says Amanyara resort manager Serge Ditesheim.
This immersive mentality pervades their dozens of locations worldwide, each one inextricably linked to the land. Whether it's by inviting guests to release new members of a native species on the verge of extinction in Bali or explore a surrounding UNESCO World Heritage site in China, Aman is incredible at pinpointing unique, transformative experiences to be had outdoors. "Each Aman has its own identity, experience, and feel, and each is unique in what they offer their guests," Ditesheim explains. "All of this, however, is intrinsically linked to and influenced by the location of the hotels."
When I think of what luxury means to me, it's not a high-thread-count sheet, an Italian handbag, or even a great bottle of wine. It's the opportunity to practice physical and mental well-being in a beautiful space that motivates and grounds me. In this sense, wellness is a connecting thread between two seemingly different realms: luxury and sustainability.
Photo: @jasonwachob
At the end of the day, striving to be "well" means living in harmony with yourself and your surroundings. Eco-resorts like Aman offer guests the opportunity to do so with a side of pampering—and guests are signing on. Wellness travel is expected to eclipse $563 billion in earnings this year, and 66 percent of travelers are now saying they're willing to pay more to ensure their trips are as sustainable as possible. The marriage of travel, wellness, and green is a profitable one. The wellness travel industry grew 6.8 percent between 2013 and 2015, and it shows no sign of slowing.
Aman has paved the way for other luxury sites to treat guests to nature in a way that feels respectful and mindful of culture. From The Sanctuary at Two Rivers, offering yogis a retreat in a 100 percent off-the-grid, solar-powered facility, to Maderas Village in Nicaragua, pairing surf and water-sport offerings beside an open-air village that's constructed of local, naturally fallen timber, there are now a handful of resorts around the world introducing wellness lovers to new landscapes without harming them. And this emphasis on eco-luxury isn't relegated to faraway beaches. In our own backyard, 1Hotels Brooklyn is turning Brooklyn Bridge Park into a playground for wellness-hungry visitors and New Yorkers treating themselves to a staycation. Crafted using repurposed material and dotted with plant species indigenous to the area, the hotel's furniture, food, and décor are almost exclusively sourced from the surrounding neighborhood.
"I wanted to use a hotel as a platform to teach people how to live a green life and live well while still having a luxury experience," founder Barry Sternlicht told mbg back in April. "I want people to realize that in today's world of gadgets and gizmos, nature is the greatest luxury of all."
Start your next eco-friendly vacay off right with this primer on sustainable airfare.
Blog by Colleen Wachob. Colleen is a founding partner and the chief brand officer at mindbodygreen.com